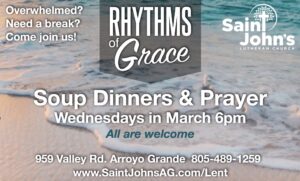 Life is hard. Come take a break with us.
Wednesdays in March 6pm
Join us Wednesday nights during Lent for some spectacular soup and worship time together. We'll be meeting the Commons (that's the lobby of
the
church) and enjoy a simple meal together at 6pm. Then, we'll experience God
together
as we
worship
and listen and take extra time for prayer and
communion
through special "stations" around the room. You're going to love it.