Let's read the New Testament in 2017
June 19-23, 2 Corinthians 8-12 Devo

Buttercup, Lydia's lovable fluff-ball of a cat, has discovered going outdoors since moving into our new home. We've had her about six years and she has always been an indoor only cat. Our backyard here is small and very well contained by high brick walls and a few tall wood fences. We don't let the other cat, Scarlet, out because she is a climber and a jumper. We are confident Buttercup can't jump and certainly won't be escaping. When we first let her out she didn't venture too far, maybe 10 feet in any direction. After about a month she started wandering a little more, but there really isn't too far to go. She enjoys the sun, exploring, and a bit of freedom. However, she always returns within about 30 minutes, waiting to get back inside. She's a smart cat. She knows where her food is. Her cozy blanket. Her security. Her loving family.
As we read through 2 Corinthians and all the church is going through, I'm reminded of the challenges this world brings. We can't read too far into the life of Paul before we see immense dangers, battles, persecution, pressures, and loss. Paul is locked up in chains, shipwrecked, hungry, sleep deprived, abandoned, falsely accused time and time again. And in all that he admits he is weak. He is honest and vulnerable in his sufferings. Paul, like many of us, pleads with the Lord to take away the thorn in flesh. This is where he hears these encouraging words from Jesus, "My grace is sufficient for you, for my power is made perfect in weakness" 2 Corinthians 12:9
Like our cat, I have ventured into the world and tried to do things on my own. I can recall many times I thought I knew what I was doing. I thought I was smart enough, strong enough. It wasn't that I knowingly shut God out or turned away from him. But many times I ran ahead. Tried to figure things out on my own. Each time seemly going a little further, a little faster, a little more on my own. But at the end of the day… every. single. time. I return home. Broken, bruised, hungry, and weak. In need of the Father's wisdom and comfort. In need of his goodness. In need of his Grace.
We've faced some pretty significant persecution in our life in ministry. We've recently faced the tragic loss of my kind, beautiful baby sister. Watched closely as my dear sweet mother-in-law lost her battle with cancer. Suffered miscarriages. We've seen financial hardships, illnesses, hospital stays, and many other trials along the way. In ministry, we have the unique opportunity to walk with people through their darkest moments. It is a privilege and a challenge. Through it all, one thing I am deeply convinced of is that God's grace is sufficient for me. It isn't easy. The brokenness and pain remain intense. The grief isn't any less. While we may feel abandoned, we are not. Perhaps like me you might plead with the Lord to take the thorn away. And while I am not as quick as Paul to gladly boast about my weakness, I am leaning in and working on it. I am more aware now than ever that on my own, I am weak. On my own I an unable to face hardship, persecution and loss. But the truth I cling to is that I am not alone. There is grace. There is strength to be found.
What would it look like to find strength in your weakness? Whatever you are facing today, I wonder what you might hear in these words today.
Three times I pleaded with the Lord to take it away from me. But he said to me, "My grace is sufficient for you, for my power is made perfect in weakness." Therefore I will boast all the more gladly about my weaknesses, so that Christ's power may rest on me. That is why, for Christ's sake, I delight in weaknesses, in insults, in hardships, in persecutions, in difficulties. For when I am weak, then I am strong.

2 Corinthians 12:8-10
Previous Weeks
June 12-16, 2 Corinthians 3-7 Devo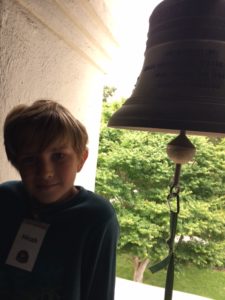 A few weeks ago I chaperoned a field trip to the San Luis Obispo mission with Micah's 4th grade class. Earlier this year, when we were homeschooling, we took several trips to visit and explore other California Missions. We found lots of similarities between the missions, yet each one unique in its own way too. Each with its own story, individual history of battles fought, damage done, broken bell towers, earthquakes and floods.
This week w

e read "But we have this treasure in jars of clay to show that this all-surpassing power is from God and not from us. We are hard pressed on every side, but not crushed; perplexed, but not in despair; persecuted, but not abandoned; struck down, but not destroyed." – 2 Corinthians 2:7-9.
Like these historic buildings, I'm aware of the pressing and persecution we each face. We all have a story. Each one unique, and always more depth!
While on the tour, our docent at the San Luis Obispo Mission didn't show up. Waiting with
18
squirmy 4th graders, we decided to
start our own tour. As we walked through the gift shop and into the museum area, we were greeted by a friendly man who began engaging the kids. As the morning unfolded, we learned more about this specific mission. He told us of bones discovered and reburied in the courtyard, he knew specifics of each step added at the altar, the buying and selling of artwork, the building additions, the stories of the priests who served, details of each crack and tile placement. He even took us up into the bell tower with his special key and rang the bells in a melodious tune. It was by far the best. tour. ever. Turns out he grew up in that church, has been on council many years. He is a care taker of the property and spent many years ringing the bells – which they still do manually twice at day!
Over the past few weeks, I've reflected many times on why I appreciated our time with him so much. I'm honestly not a very big history details person, but I listened to his every word! He carried with him a personal story, a love for the history, a joy for the property and a heart for the community. He knew the details because he is deeply invested.
As our story unfolds and our history revealed, we carry with us one who is deeply invested in us. The One who knows all our details, all our heartbreaks, all our brokenness and battles fought. Jesus shares i
n our joys and victories and he holds us up when we are pressed. Struck down, but not destroyed. Why? Because we have the ultimate care taker. We have a Savior who doesn't let us down. Whatever you are facing today, in joy or pain, know that our God is with you. He's deeply invested in you. He's fighting battles on your behalf.
"Therefore we do not lose heart. Though outwardly we are wasting away, yet inwardly we are being renewed day by day. For our light and momentary troubles are achieving for us an eternal glory that far outweighs them all. So we fix our eyes not on what is seen, but on what is unseen, since what is seen is temporary, but what is unseen is eternal."

– 2 Corinthians 4:16-18
June 12-16, 2 Corinthians 3-7 Overview
We're in 2 Corinthians this week with our "New Testament in a Year" Bible reading. You can tell Paul has been having a tough time with this particular church. I invite you to read between the lines and hear Paul's heart of love and reconciliation even as he takes them to task. I love how he reminds them of the freedom they have in Christ, "for the letter kills, but the Spirit gives life." (2 Cor 3:6). Why would we settle for rules, when we can have a real relationship!
Week 19 – May 8-12, Matthew 6-10 Devo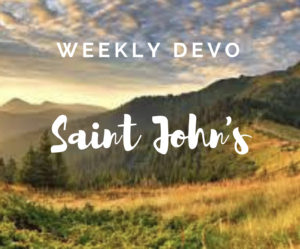 Jesus came down from the mountainside – Matthew 8:1. In this particular passage we don't read about Jesus going away to be with His Father, but we know he does. The gospels are filled with incredible wisdom, miraculous healings, sermons of grace and truth. The words of Jesus change us. The works of Jesus heal, redeem, and set us free. As a "church-goer" and daily "Bible-reader" for many years now, I often find myself caught up in reciting the things Jesus says and does. What struck me this week is the ways and rhythms of Jesus. He regularly spent time in prayer, crying out to His Father, connecting with him.
I'm in a season (again!) of not sleeping very well. Honestly, I'm pretty exhausted lately. I know part of it is grief. I'm also not eating or exercising as well as I could be. Several people close to us are hurting deeply or struggling right now, so I'm thinking about them constantly. There is a lot of "new" brewing and I love that! But that also means it is a busy season and so my mind is always dreaming, planning, and envisioning what could be.
As faithful as I have been with my Bible reading plan, I have been missing that sacred space with the Father. My prayers have been more about me spewing out words and requests and less of breathing in the Father's presence. I want to be more intentional about resting in God. As strong as I may think I am, my strength will fail if it doesn't flow out of the Spirit's power. It's not about beating myself up, His grace is enough. But it is about making space. Acknowledging the need to simply get away with God. If Jesus needed to do this, how much more so must I! When I am spiritually rested, I trust the physical rest will follow.
Is there something keeping you awake at night? Distracting you? Perhaps something keeping you from spiritually resting in God? Where can you carve out intentional space to pause and breathe in the Father's presence? Maybe it's not a whole weekend mountaintop retreat, but more practically a few minutes each day. I don't know what this looks like for you. But if we are going to do the work of Jesus, we can't miss this. Jesus came down from the mountain and immediately finds himself surrounded by crowds, people in need, diseases to be healed, evil spirits to be cast out, storms to be calmed. The reason Jesus has capacity to heal, teach, minister and preach so well is because he in intentional about time with His Father. I trust God wants to give us the strength for whatever we are about to step into, but it starts with getting away with Him.
Week 17 – April 24-28, 1 Thessalonians 1-5 Devo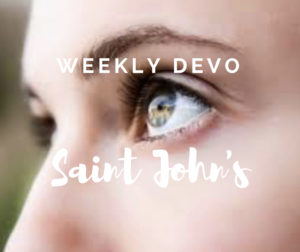 My mom had cataract surgery yesterday. It was short and fairly straight forward but I know it wasn't fun. I'm so excited for her to experience greater vision and clarity. I've especially heard how fabulous the vibrancy of colors will be for her. I've been thinking about this particular procedure as we've been reading through 1 Thessalonians this week. Paul is writing to them giving encouragement, hope and direction for ways of living. But you can almost hear the deep desire he has to actually see them face to face. To be with them. He even says in 2:17 "out of our intense longing we made every effort to see you". Paul, Silas, and Timothy want to be present with them. They are so proud of them. There is great joy about the people in this church.
There is something about seeing the people we love. So much of our communication and relationships these days are via email, Facebook, and texting. I think we often miss something pretty important. When we are in the presence of the ones we love, we see their face. We see their sadness. We see their joy. We see their tears. We see their smile. We see their hope.
As we walk with Jesus and encounter others, I wonder what junk has clouded our view. Has judgment gotten in the way? Or plain busyness kept us from seeing people face to face? What else might be in the way. In cataract surgery, the lens inside your eye that has become cloudy is removed and replaced with an artificial lens to restore clear vision. Now, I'm not suggesting we become any bit artificial. But God has been reminding me to remove my own cloudy layers that impact the way I see others and the world around me. When I look through the lens of Jesus, things change. Negativity, fear and judgment go away. Clear vision gets restored. Hope, and light and love become the filters. It's not always easy, but Paul makes it quite clear.
Tomorrow as we wrap up with chapter 5 we read about light and darkness. We get final encouragements. We are reminded to encourage one another and build one another up (1 Thessalonians 5:11). Whatever it is you might be wresting with this week, as you read tomorrow, I invite you to ask the Lord to remove whatever has been clouding your vision lately. Ask Him to restore clear vision once again. My hope is that the lens we see others through would be one of light, love. That we would be joyful always, pray continually, give thanks in all circumstances (1 Thessalonians 5:16-18).
Week 17 – April 24-28, 1 Thessalonians 1-5 Intro
This week, in our Bible reading, we tackle Paul's first letter to the Thessalonians. Listen to how much he loves them and calls to faith, hope and love together. As you read between the lines, I think you'll sense that the church in Thessalonica is much like Saint John's.
Week 15 – April 10-14, Hebrews 10-13, Galatians 1 Devotion
We spent the last 18 years living in Southern California, part of that just outside of Los Angeles. I hear many of you talk about the traffic around here. I haven't found it yet! I find it so much less chaotic, and mostly everyone waits their turn. I'm know there are rude drivers around here too, but they're few and far between. Every time we find ourselves back in crazy traffic, I'm so thankful for the new place he has us. When I have to drive in LA, I often find myself stressed, annoyed, and even out right mad at times. The lack of respect people seem to have for one another makes me crazy. Hardly anyone uses their signals. People don't seem to care who is in the next lane and must have forgotten what a blind spot is! As I reflect on what it is that makes me so crazy in these situations, I think it's because I refuse to tailgate. I like to leave some space between me and the car in front of me. It's polite. It's safe.
As I've been thinking about this, God has been encouraging me to tailgate Him. So I'm trying to press in closer and experience what it means to tailgate God. What it looks like for me to stay so close to him is that there is never any room for distractions, misleadings, envy, greed, bitterness, or any kind of sin to get in the way and take me off course. I mess up with this all the time! But I'm wrestling with what it would look like for me to move in a way that when God moves, I move. When God stops, I stop. When God U-turns, I U-turn. God has the answers. He knows the way. He knows when to pause and when to move forward. He wants to lead us. His desire is to equip and fill us with his ways.
As we wrap up Hebrews today, the writer tells us in his final greetings "Now may the God of peace, who through the blood of the eternal covenant brought back from the dead our Lord Jesus, that great Shepherd of the sheep, equip you with everything good for doing his will, and may he work in us what is pleasing to him, through Jesus Christ, to whom be glory for ever and ever. Amen," – Hebrews 13:20-21. As I hear that, I want to do a better job of following my Shepherd. I want to stay so connected to him and what he is doing that there is no room for anything else. As we enter these last few days of Holy week, I'm working on letting go of control (yet again!) and resting in the ways of Jesus, the promise of peace. Jesus invites us to come close. He welcomes us to his table.
What's one way you can intentionally stay close to God today?
Week 14 – April 3-7, Hebrews 5-9 Devotion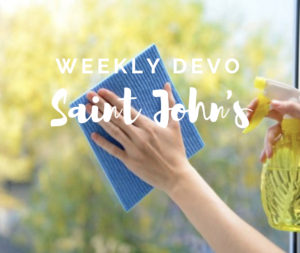 Smudges! Our back slider almost always has smudges on it. Between the dog and the kids someone's nose, finger or paw prints continually shows up. I might just give up cleaning it because it never stays clean. But I realized this week I actually like seeing those smudges. It makes me smile because it reminds me kids play here. Micah runs in and out all afternoon with the neighbor kids. They are joyful and full of energy, enjoying the fresh air and making memories. As for the dog, well, she's part of the family too. No sooner do we put her out back before her nose is pressed up against the glass, desperate to get inside and be with her pack. It's evident we have a full house. It's evident we have kids and pets, and often dirty hands too!


As we've been reading through Hebrews, it's evident these great men walked in faith. They carried it with them. Next week in Hebrews 11 we'll see again and again this evidence of faith. I wonder for us, for me really, is my faith evident? When people encounter me, do they encounter Jesus? I love Hebrews 6:19 "we have this hope as an anchor for our soul, firm and secure…". Those are words I've turned to many times in my life. When the storms come and grief remains, I cling to hope as an anchor for my soul. I know these words to be true in my head… but is it evident to others? Is it even evident to me?


What would it look like for us live our lives in such a way that our faith smudges were evident? When others see us, is it obvious that we have a firm and secure hope? I'm not suggesting we do this in some obnoxious, judgmental way. That's not the way of Jesus or the faithful leaders Hebrews mentions like Abraham, Isaac, Joseph, and Noah. Rather they heard the voice of God, trusted, followed, and walked with faith. The lead their people with confidence and humility. They persevered when others wanted to give up. Like the words of Hebrews 6:10-12, "God is not unjust; he will not forget your work and the love you have shown him as you have helped his people and continue to help them. We want each of you to show this same diligence to the very end, so that what you hope for may be fully realized. We do not want you to become lazy, but to imitate those who through faith and patience inherit what has been promised." Their faith was deep, and it was evident to all. May we imitate them and our faith be evident too.
Week 13 – March 27-31, Mark 16, Hebrews 1-4 Devotion
We are a music family. Our kids love music. We all do. In the house, in the car, on a walk, at the gym. Playing piano, jamming on the guitar, singing in the shower, or apple music blasting through the speaker. You can almost always find at least on of us, if not all of us, rockin' to the tunes. Even when Micah was in utero he loved worship, especially the drums. Boy could that kid move, even before he was born!
As much as I love music, there are times when I just don't want to hear what Lydia is listening to. But I also don't want her tuning out the family. So we often compromise and she has one headphone in, one out. She's really good at multi-tasking. She can be rockin' to the tunes, doing homework, watching a tv show and participating in multiple conversations with the whoever happens to be in the family room.
Reading through Hebrew 3 this morning, I was struck by the repetition of the words "Today, if you hear his voice, do not harden your hearts…". We find them in Hebrews 3:7,
3:15

, and again

tomorrow
in 4:7. Today, if you hear his voice… Today! I trust God has something to say to me each day. I know he wants to give direction to my life, our family, our church. But, oh how often do I miss what he is saying! If I'm honest, more often than not I am probably listening with one headphone in, one headphone out. I might be listening, but I don't think I am really hearing!
I wonder what it would look like for you to set everything aside and really lean into listening to the Father with both ears turned towards him? And what if we took away the 'if" we hear his voice, and instead orientated our hearts with expectation to what the Lord might have for us, this day. Today. I'm hopeful our hearts are not hardening, but I do pray that we become more ready to set aside distractions. That both as individuals and as a church, we would move more intentionally into the places where our ears are open and tuned into hearing God's voice. Today. Everyday.
Week 12 – March 20-24, Mark 11-15 Devotion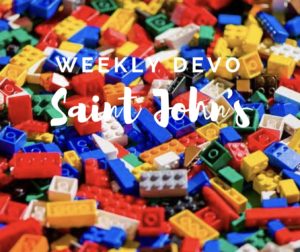 Our son Micah loves spending time playing with legos. When he's not bouncing around like Tigger, you will often find him constructing the perfect airplane, car, dragon or sometimes even a whole city. Building something takes time, focus, and intentionality. When he was a toddler, he'd build up towers just so he could knock them down. Anyone else like that?
Sadly, I think we all too often are quick to say a hurtful word, cast judgment, raise our voice, or knock someone down. Sometimes intentionally, but often we don't even mean to hurt others… but we do. For many of us we are just too busy or distracted and we miss opportunities to intentionally build up one another. We miss the chance to share encouraging words, give unexpected gifts, or even offer our time and faith to others. Building others up takes time and intentionality!
One predictable pattern we have put into place in our home is sharing "thankfuls" and "hopefuls". Each night we all share something we are thankful for today and hopeful for

tomorrow

. It gives us a place to acknowledge the good Father we have as well as an opportunity to encourage each other. Like body builders who lift weights, we put this simple discipline into place to bulk up our building up of one another.
So much happening in the Mark readings this week. Jesus triumphal enter into the city, the clearing of the Temple, continued teachings, healing and sermons, the Lord's Supper and Jesus arrested. My heart is heavy as we begin to prepare our hearts for coming of Holy week. But before we get too far down the journey to the cross, I want to pause for a moment In Mark 12:28-31.
One of the teachers of the law came and heard them debating. Noticing that Jesus had given them a good answer, he asked him, "Of all the commandments, which is the most important?" "The most important one," answered Jesus, "is this: 'Hear, O Israel: The Lord our God, the Lord is one. Love the Lord your God with all your heart and with all your soul and with all your mind and with all your strength. The second is this: 'Love your neighbor as yourself.' There is no commandment greater than these."
How are you loving others well? And what about the Lord your God, are you loving him with all your heart, soul mind and strength? These words of Jesus are ones we know all too well. They are so rich. So deep. But what does it look like to put them into practice, today. One way we can love others well is by encouraging one another, not knocking each other down. It's not always easy but so important. What would it look like for you to be intentional about building up those around you? Who do you know that could use some encouragement this week? Love them well.
Week 11 – March 13-17, Mark 6-10 Devotion
The kids eagerly, with maybe just a smidgen of fear, began at Coastal Christian School in January. The move and transition seemed to be going exceptionally well. Only one problem. Lydia was placed in Algebra when she had been doing pre-Algebra. Two weeks in a brand new school, new friends, new community, new teachers, new home, new Math, new… EVERYTHING and Lydia had her first Alegbra test. She bombed! 50%. She's never had below a C on anything! And even a C is rare. But, what a devastation! Or so I thought. Not for Lydia as she pressed in, reached out for help (thank you Thomas! and Khan academy), and was more determined than ever. She has since gotten A's on the next two tests, 100% on citizenship and 100% on homework. Her term grade is 89% and she is the 3rd highest in her class. So proud of that girl!
As I've been thinking about Lydia and reading through Mark's gospel this week, I wonder what in the world the disciples were thinking. They've seen Jesus do many miracles. And even helped him. In chapter 6 we get the incredible feeding of the 5,000. Just two chapters later we come to the feeding of the 4,000. The disciples have just seen Jesus feed 5,000 with 5 loves and 2 fish. Now, here we are in a similar situation and disciples respond with "but where in this remote place can anyone get enough food to feed them" – Mark 8:4. Guys!! We just did this. I don't know if they are responding out of fear or ignorance. Whatever the reason, they revert back to their old way of uncertainly. It's like they had given up. In chapter 9 we read the healing of the boy. We see the boy's father ask Jesus "But if you can do anything… (Mark 9:22). I love Jesus reply "If you can"… (v 23). I don't know what his tone was, but can you imagine questioning Jesus. Asking him
IF he can heal.
When Lydia failed her first test, she could have given up. She could have asked to move down to pre-Algebra. She could have doubted herself. She could have done a lot of things, but what she did was not give up. She pressed in and sought out help. Practical math knowledge is very different than our faith and trust in Jesus. But the connection for me this week is keep pressing in. Jesus has done incredible things in my life. I've seen friends miraculously healed in Jesus' name. I KNOW Jesus heals. If I pray and nothing seems to happen, have I failed? Has God failed? I don't think so. Often it's a call to press in deeper. To learn more. To be persistent. The challenge for me is to be honest. I believe, help my unbelief! That response is more me than I care to admit. I want to trust more fully, I want to release my burdens, I want to believe … and yet like the disciples, fear and doubt so easily creep back into play and the "If's" start to take over.
How is God calling you to press in with deeper faith this week? Where have you admitted defeat too quickly or given in to doubt? Is unbelief finding it's way into where there once was belief? What would it look like for you to step in to greater belief this week? Greater faith?
Week 11 – March 13-17, Mark 6-10 Overview
This week, we dive into Mark 6-10, where Mark continues the fast pace of recounting Jesus as the Son of Man. He's down in the real world with the death of his cousin John, the feeding of thousands, fighting with the religious leaders, a mountain top experience, and sharing about how he must suffer and die. God will surely meet you in these snapshots of Jesus' ministry. What's he saying in this kairos moment and what might you do about it?
Week 10 – March 6-10, Mark 1-5 Devotional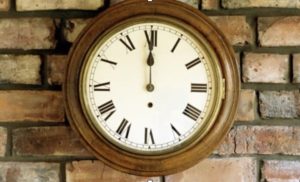 I don't like to be late. It stresses me out. Just ask my family! If we are not five minutes early, then we are late. One of the first things we did in our new place was hang up clocks. I like one in every room. The battery died in our bathroom clock the other day and it actually sat there on the wall, stuck in time for about three days. Now I'll admit I noticed it, but I just couldn't seem to get to it. I eventually changed the battery but the time still wasn't right. Another day passed. Maybe we need a whole new clock, I thought. Well it doesn't take a rocket scientist to figure out it was just me. I replaced the old battery with a new one, but I simply set the time wrong. And I was ready to throw out the whole clock!
It got me thinking about Jesus and this season of Lent and renewal. As we draw near to Jesus and reflect on the cross, maybe we need more than just a new battery. It's easy in our busy culture and hurting world to find ourselves with empty batteries. We have to find time to rest and ways to renew. But perhaps the invitation this Lent is even deeper. I sense God calling us to not only recharge our batteries as we put Spiritual Disciplines back into rhythm, but I think he might be asking us for a whole new reset. A chance to reorientate our lives with his. A chance for our deepest fears, biggest longings, deepest loves to be aligned with his Kingdom. And maybe we can start by allowing Jesus to set the time, set the pace, set the expectation.
In chapter 4 of Mark's Gospel we get the story of Jesus calming the storm. Jesus never left the boat. He was always there with the disciples, but they let fear take over. They focused on the waves and the storm around them rather than His presence and promises. He said to his disciples, "Why are you so afraid? Do you still have no faith?" – Mark 4:40.
I wonder what you are afraid of? What is keeping you from trusting in the power of Jesus? What is getting in the way of faith? Maybe it's not time for a whole new clock, but I do think Jesus still has some work to do in each of us. What would it look like to reset this week so the starting point aligns with Jesus as we put our trust in Him once again rather than waiting storm or reacting in fear?
Week 9 – Feb 27-Mar 3, 1 Corinthians 16, Philippians 1-4 Devotional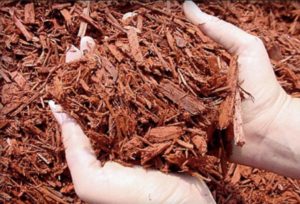 I bought a new broom the other day. Exciting, I know. Haha! We are really enjoying our new place and it feels more like home everyday. The house is designed to be energy efficient. We love that about it! One thing I wasn't anticipating with the low maintenance drought tolerant yard is the constant sweeping. Man does this bark track and spread everywhere! The backyard has two small concrete patios. They are very small and it honestly doesn't take much time at all, but it constantly needs to be swept. As I found myself beginning to resent this chore, God reminded me of how often he is sweeping me clean. Continually. Constantly. So last week I began a new daily rhythm when I sweep. Each morning while the coffee is brewing and the rest of the house sleeps, God and I spend a few moments sweeping. As I am literally sweeping the back patio, I confess. I talk to my Father about the previous day. I ask him to show me where I messed up. I apologize. He forgives. I invite him into my new day and thank him for his grace once again. God's mercies are new every morning. I love that about Him! But I often take that for granted and overlook the need to get right with him. This simple task that I resented is becoming something I crave and look forward to. It isn't always easy to be honest about my sins. Like the bark, I'm a mess too. But what a gift we have in God's grace.
The entire book of Philippians is filled with good words. I find it both encouraging and convicting. As we humble ourselves and orientate our lives with Jesus, our attitude becomes more like his. That's a good promise! Rather than grumbling when I sweep, I'm working on putting Paul's words into practice.
For it is God who works in you to will and to act in order to fulfill his good purpose. Do everything without grumbling or arguing, so that you may become blameless and pure, "children of God without fault in a warped and crooked generation…" – Philippians 2:13-15
This week we enter into the season of Lent where we press into more intentional reflection. Is there a simple, repetitive daily task you do? Is there a chore that might give you space to humble yourself before the Father as you do it? Perhaps washing the dishes or taking out the trash? Like the dishes and the trash, God washes us clean and he certainly takes away our junk. It doesn't need to be long, just intentional. I encourage you to simply pause, reflect, and invite God to meet with you in your daily rhythms.
Week 9 – Feb 27-Mar 3, 1 Corinthians 16, Philippians 1-4 Overview
I'm praying that this week, as you delve in the short book of Philippians, that God will fill you with Joy and Peace. Paul is writing to a church he founded and simply adores. There's not much negative in this letter (unlike our journey through Paul's first letter to the church in Corinth). He sees how great the church in Philippi is, and he called them to go deeper. The 2nd Chapter gives us some of the best theology of how the Son of God became flesh and dwelt among. It's high literature for sure. Each very is so rich. My encouragement is to read slow and repeat a few times. The chapters are short, but there's a ton that God will show you as you invest the time.
Week 8 – Feb. 20-24, 1 Corinthians 11-15 Devotional
Love is patient. Our dog Ruby loves to go for walks. The second she sees one of us reach for her leash, or even grab our tennis shoes – she is anything but patient. She runs in circles, yaps, whines, jumps. She can't sit still because she is so full of energy and excitement. She loves walks so much. It's hard to be patient when it's something or someone we love. Paul's word here about love being patient perhaps doesn't look like what I think of when I hear the word patient. Perhaps because Paul doesn't stop there either. As we keep reading about what love is we see patient doesn't mean simply doing nothing, but rather an active something.
Love is patient, love is kind. It does not envy, it does not boast, it is not proud. It does not dishonor others, it is not self-seeking, it is not easily angered, it keeps no record of wrongs. Love does not delight in evil but rejoices with the truth. It always protects, always trusts, always hopes, always perseveres. Love never fails. -1 Cor 13:4-8
We get this fairly well known scripture this week in 1 Corinthians 13. As a busy wife, mother, church leader these are very helpful words I need to reflect on often! However, what really struck me today was a few verses earlier in verse 2. Paul writes, if I have a faith that can move mountains, but do not have love, I am nothing. Nothing. If we have not love we are nothing. We have not just something – but the opposite of nothing. We have everything. I wonder what love is to you? How does that compare to this love Paul describes. What would it look like for you live out each day knowing that you already have everything? What if in our patient love we became active? Perhaps we can press in together living our lives in such a way that reflect what we already have – everything. Because we have love.
Week 8 – Feb. 20-24, 1 Corinthians 11-15 Overview
It's going to be great. We'll read. God will speak. We will be changed. We'll be posting reflections throughout the year. Read and reflect. What is God saying to you? What are you going to do about it?
This week we move to some more positive words from Paul to the church in Corinth as we read 1 Corinthians 11-15. Note how Paul is encouraging them to use their spiritual gifts. And how he's not afraid to bring challenge about how they should use them. We'll read one of the most quoted chapters of the Bible. Been to any weddings lately, maybe you'll recognize chapter 13. We end with strong teaching on the resurrection of Jesus. If Jesus hasn't been raised, then our faith is futile. What is God saying to you this week?
Week 7 – Feb. 13-17, 1 Corinthians 6-10 Devotional
I generally love Paul's writings, but if I'm honest 1 Corinthians can easily make my head spin. It's thick. This week I've been reading more slowly and really looking for truths that God wouldn't want me to miss.
But knowledge puffs up while love builds up. Those who think they know something do not yet know as they ought to know. But whoever loves God is known by God. – 1 Corinthians 8:1-3
It's easy for me to fall into the place where I rely on knowledge. I love research. I love learning. But wow, did this word stop me in my tracks. I've been spending way too much time lately focused on what I know in my head and missing the more important truth of being KNOWN by God and loving him.
I've really enjoyed getting to know the church staff better each week. Pam Glenn wrote a beautiful reflection this week about what God has been speaking to her. She particularly encouraged me in this area of being known by God. Check out what she shares…
From Pam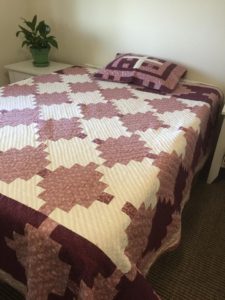 I've been a sewist, knitter and crocheter for more than 50 years; always thought about quilting but could never quite get my head around cutting a perfectly good piece of fabric into tiny little pieces, only to sew them back together again! I finally decided to give it a try about a year and a half ago and with the encouragement and help of my friend and quilting mentor, I am now a quilting junkie . The pictures are of my latest completed quilt.
That being said, as I was doing the finishing touches this morning I had a "revelation" about my life. Psalm 139:13-14 tells us that God knit us together in our mothers's womb – we are fearfully and wonderfully made. How awesome is that? But then life happens and the fabric that we are, is cut into tiny pieces often leaving us almost unrecognizable as the beautiful being God made. The last few years have been tough for me (I know a lot of you have been cut up into many pieces as well) but as I was completing my quilt I realized that God is piecing me back together again into a
stronger better fabric than I was before. It's not easy starting over at 64 or 65, yet God has blessed me immensely with everything I need and most everything I want. I'm not sure how it happens on social security and a part time job but it does.
Thank you God for your grace and mercy and piecing me back together again – now the quilting begins! Just like my quilt, I am not perfect – there are seams that don't quite match up exactly, a few (or more!) puckers and wrinkles in the new fabric but I am a new kind of beautiful and so are each one of you.
Week 6 – Feb. 6-10, 1 Corinthians 1-5 Devotional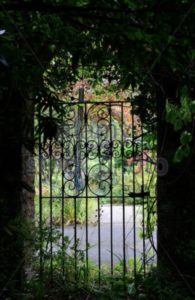 This morning at church, I was walking outside getting some fresh air trying to kick this headache plaguing me today. I walked over to the columbarium, thinking it would be a lovely spot to sit and pray for a bit. As I walked up, I was met with the gate and lock code. Rather than trying to open it, I called Greg to ask for the code. Turns out it wasn't even locked! Oops…How simple! I wasn't actually locked out, I only thought I was. How silly I didn't even try! It began a day of reflection in me of how often I miss the obvious right in front of me. How often I put up walls, gates and barriers that keep me from seeing what God is doing, right in front of me.
As we've been diving into 1 Corinthians this week, Paul writes about the power of God, and the wisdom of the Spirit in the first few chapters. He encourages us to be foolish for Christ and seek spiritual rather than worldly intelligence.
However, as it is written:

"What no eye has seen, what no ear has heard,

and what no human mind has conceived"

the things God has prepared for those who love him—

these are the things God has revealed to us by his Spirit. – 1 Corinthians 2:9-10.
God has incredible, infinite wisdom he wants to lavish on us. As Paul writes, we can't even imagine how much God has prepared for those of us who love him! As I sat with the Father in the quiet, peaceful columbarium today, I found myself with a renewed sense of possibilities. God reminded me of how just a slight movement can open up something so new. Often times I feel stuck. I feel stuck in a particular area of ministry. Stuck in the mundane. Stuck in chaos. What I am learning is that that which often feels like a locked gate, really just need a shift in perspective. I need to create space to hear the Father's voice. I need space to see His kingdom. I need to orientate my heart towards His. I need an openness to press in to new possibilities. I want to receive His wisdom more and rely less on my own knowledge!
I
f you find yourself feeling stuck this week, I invite you to press in with me as ask God to give you a shift in perspective. Perhaps you are facing a situation that could use Spiritual wisdom. God sees things way better than we do, and he wants to show you a new view. I would love to hear what He reveals to you!
Week 6 – Feb. 6-10, 1 Corinthians 1-5 Overview
We're diving in to 1st Corinthians. It's a letter that the Apostle Paul writes to a struggling church in a crazy town. As you read, make a note of all the problems that the church is facing. If you ever think your church is in trouble, read 1st Corinthians and you'll probably feel better! I love how faithful Paul is in reminding them of who they are called to be. He's also not afraid to bring real challenge when they need it. We need people like that in our lives.
Week 5 – Jan. 30 – Feb. 3, John 21 & Colossians 1-4 Devotional
Colossians 3:20 could be one of my favorite verses. In everything. Yes! Haha… if only! Are you feeling energized diving into Paul's letter to the Colossians this week? Such wise, encouraging and often convicting words he has for us.
Greg and I took our dog Ruby for a walk on the beach earlier this week. It was a cool early morning so I kept adding layers to keep warm. As I was reading Colossians 3, I had that picture as I read his words clothe
yourselves with compassion, kindness, humility, gentleness and patience in verse 12. It's not really one or the other he's telling us to put on, but rather layers. Earlier in verse 5 he writes put to death, therefore, whatever belongs to your earthly nature: sexual immorality, impurity, lust, evil desires and greed, which is idolatry.
He doesn't say push them aside, save them for later, ignore them and pretend they don't exist. He says put them to death. Can't get much more final than death with earthly things. Paul's not messing around. Put to death these earthly icky things. Get rid of them completely. And, instead…layer yourselves with these Godly things. Put on love. Be grateful, let peace rule, forgive.
The piece that really struck me today comes in the beginning of verse 12. I've read this passage many times but somehow passed over this critical piece. Before Paul tells us what to put on, he declares a truth about our identity. Therefore, as God's chosen people, holy and dearly loved…That changes everything! If we pause long enough to get that we are chosen by God… If we can grasp that we are DEARLY loved, it changes everything. If we know our identity is NOT is in earthly ways, how well we behave, what others say about us, what lies we've believed – it's a whole new ballgame. Opposite of what the world often wants us to believe, our identity is knowing we are DEARLY loved, rooted and built up in him (2:7).
We are precious. We are His. We are chosen. Once we embrace this truth, then all the layers of humility, kindness and compassion flow from that place of identity in Him.
Perhaps there are some layers you need to peel back today to make space for God to speak. I wonder what it would look like for you to live into the truth of your identity as God sees you? Before we put on more layers, my sense is God wants us to simply sit with him today. Simply sitting is not easy for many of us. But my hope is that we would rest today in knowing we are dearly loved. Friends, in case no one has told you lately… YOU are dearly loved.
Week 5 – Jan. 30 – Feb. 3, John 21 & Colossians 1-4 Overview
In our Bible Readings this week, we can look forward to finishing John and getting into Paul's incredible letter to the Colossians. These are short chapters so you may want to read them a few times. They are packed with words that God will use to speak directly to you. Haven't been reading? This is a great time to grab a book mark and jump in.
Week 4 – Jan 23-27, John 16-20 Devotional
I can't believe the amount of trash, mostly recyclable packaging, we've generated lately! No sooner do we take the trash out that the cans gets filled up again.
Over the past several years we've tried to live our lives with an open door, literally. With all the people who would come in and out of our home over the course of a typical month, we'd always generate a lot of trash! But more than just the physical litter, life is messy. As we strive to really live life with those gathered around us, we refuse to settle for surface, superficial relationships. As our lives become an open book, we don't get to be fake. We do real. That means our junk, pain, stress and trash gets exposed. It's not easy, and it's not often fun. But it's good.
We all know life is messy. Life in genuine community is even messier. But it's a good kind of mess. It reminds me of the days my son would come home from preschool covered in dirt, paint and anything else he could get into. I learned that the messier he was (and often still is!) the more adventures he'd had that day. The "mess" he'd come home with represented playing, exploring, laughing and sometimes crying. Each stain had a story behind it. As we live life with others, we often find ourselves covered in all kinds of stains. But those stains represent real.
There's no fake or surface with Jesus, only real. He understands pain. He gets dysfunction. In the John readings this week we see Peter's denial as he abandons Jesus. The soldiers, high priest and governors are ready to brutally kill him. His community, his family – gone. What struck me this week is how Jesus moments before his crucifixion, prays for his disciples who will deny and abandon him. He prays for us too, for all believers. Jesus, preparing for the cross, thinks of you and me. In John 17:20 Jesus says "I pray also for those who will believe in me…" That's us!
"My prayer is not for them alone. I pray also for those who will believe in me through their message,

that all of them may be one, Father, just as you are in me and I am in you. May they also be in us so that the world may believe that you have sent me. I have given them the glory that you gave me, that they may be one as we are one— I in them and you in me—so that they may be brought to complete unity. Then the world will know that you sent me and have loved them even as you have loved me." John 17:20-23
Jesus knows, better than anyone how messy, dark, broken and lonely our world can be. We need Jesus. We need each other. The best part of living life in community is that we are never alone in the mess. When we find ourselves covered in muck there is always someone there to walk through it with us. Someone to remind us there is hope. There is grace. There is love. There is Jesus. I'm looking forward to sharing our trash as we share more life together here at Saint John's.
Week 3 – Jan 16-20, John 11-15 Devotional
"I'm not doing this again!" My mom had just woke up from a second heart procedure for atrial fibrillation. After a very long day of surgery, my dad and I were finally given permission to see her. When she saw us the first words out of her mouth were "I'm not doing this again". I can't even imagine how tired and beat up she must have been feeling. It had been over 8 hours since they wheeled her away that morning. Hours upon hours of tubes and needles all over, poking and prodding, not to mention the massive dose of anesthetics and surgery itself.
As I listened to her words and could feel the agony in her voice, I wanted to agree with her about not doing this again. But as she spoke those words, I was instantly taken back to a year prior when she had her first heart procedure for a-fib. After her first 11 hour surgery, when we got to see her the first words out of her mouth were "I"m not doing this again". The first surgery was done more urgently. It was a very long, hard day. Following the surgery, both times, the only thing my mom mumbled about all she had been through was "I"m not doing that again".
My mom is a trooper. She handles intense pain with such grace. She never complains. But I know what she's experiencing can't be easy. I know there is a lot more pain than she expresses. I know there has to be disappointment and discouragement too.
When the surgery itself is over but there is still plenty of pain, it's seems right to say "I'm not doing this again". Looking back on that year between the two surgeries, somehow my mom experienced enough wise council from the doctors and continued medication that she was ready to endure another surgery. Not because she wanted to, but because she knew her heart would be better on the other side.
As I've been reflecting on my mom's words this week, I am reminded of how many times I've said those very words "I"m not doing this again" after a hard conversation, especially around the issue of forgiveness. John writes that Jesus came full of grace and truth (John 1:14). When we press into challenging conversations, it often feels like heart surgery. When we live with anxiety, stress, or carry our burdens alone, we lack the peace God offers us. We get probed and prodded, beat up, torn apart, broken and bruised. When we are vulnerable and honest, it feels like we're a surgical patient laid out bare on the operating table. It is not an easy place to be. But if we, like Jesus, enter full of grace and truth, we ultimately find greater healing, peace and freedom.
In the reading from John 14 this week, we find the familiar words of Jesus "Do not let your hearts be troubled. Believe in God, believe also in me." (John 14:1) A little later in the chapter Jesus tells us again "Peace I leave with you; my peace I give to you. I do not give to you as the world gives. Do not let your hearts be troubled, and do not let them be afraid." (John 14:27)
I wonder what troubles your heart this week? Where are the broken places you need to tend to? Is there a hard conversation you need to have? Who might you need to seek forgiveness from? Or perhaps there is someone the Lord wants you to forgive. What are the anxieties you need to turn over to our Father? It won't be easy. And it won't be fun. But it's worth it. As you press in to those difficult places – surround yourself with wise council, prayers for healing, space for recovery. As you seek grace AND truth, you will find peace that only God can offer. Your heart will be stronger on the other side.
Week 3 – Jan 16-20, John 11-15 Overview
I hope you're spending some quality time with God this week in John's gospel. We're reading John 11-15. These are some powerful passages. From the raising of Lazarus to the parable of the Vine and the Branches, Jesus will meet with you in these stories. The shortest verse in the Bible is in here. Do you know what it is? We've also got Jesus as the Way, the Truth, and the Life, and a picture of Heaven as he comes back for us. We read this passage at so many funerals, "In my Father's house there are many dwelling places" or "many mansions" in the old King James Version. The point, of course, is that God has got things under control. Stuff doesn't surprise him like it does us. He's with us and for us and has a plan for our future. You are indeed blessed to be a blessing. I hope your week is filled with people to bless even as God showers blessing on you.
Week 2 – Jan 9-12, John 6-10 Devotional
I'm an 80s kid. Born in 1974, I grew up on Cyndi Lauper. Heck, let's be honest…I wanted to be her! I don't sleep well most nights and I often find myself awake around 2am humming the Cyndi Lauper song lyrics "lying in my bed I hear the clock tick and think of you". Now a little about Greg… he snores. Sometimes, a lot! And sometimes really loud. Since cell phones don't tick, the room was actually pretty quiet last night. The window was cracked and I could hear a soft breeze, gentle rain off and on. I like that sorta thing. Lying in my bed, maybe the phone didn't ring in the middle of the night or the clock wasn't actually ticking, but as I listened to the noise of Greg's snoring, I couldn't help but think about the Father. Go figure, right? But it is just the kind of connections I make.
We've set some good sustainable rhythms in place with our family for Bible time, returning to more consistent bedtime prayers, and I'm generally pretty faithful with my personal morning time with the Lord (because I know I'd be dead without it!). But even with all those rhythms in place, as good as they are – it's not enough. In this season of transition and so much new all around me, I'm pressing into hearing God above the noise. God doesn't just speak when we are sitting & waiting before Him, although that is critically important! I'm learning how much God has for me in the midst of this chaos we call life. Whether it's the noise of the kids running through our house, the days when non-stop texts overload my cell and my inbox is never ending, the neighbors throwing a loud party (just kidding Linstaetds!), the dog barking at a flock of killer birds, Greg snoring when I can't sleep, the loud ticking of the clock or whatever it is – God wants to lead to me in those times too.
There is so much gold to grab hold of in our readings from John this week. Jesus walking on water, the Bread of Life, Who is Jesus. Good stuff. But the part I keep returning to is the Feeding of the Five Thousand in Chapter 6. It's an incredible miracle Jesus does here. There is so much we can learn from him and his interactions with both his disciples and the crowd. I'm especially drawn to his interaction with the Father. I'm guessing if I found myself teaching 5,000 hungry people with no food, I'd feel a bit stressed. Talk about noise and chaos! But Jesus simply response in faith and gratitude. He has the people sit down. He took what little food the young boy brought, and he gives thanks. Not only does the food multiply, they have plenty of leftovers.
Time and time again God has given me what I need. He never leaves me empty handed. I, on the other hand, tend to forget this and fall into chaotic stressed out mode. So I'm working on leaning into the places where the noise is loud, the distraction is high, the chaos abounds. I'm practicing trusting my Father and giving thanks, through the noise. In the chaos. He is always more than enough.
Week 2 – Jan 9-12, John 6-10 Overview
Greg Wallace
This week, we jump into John 6-10. There are so many great stories and I know God has something special for you in there. We hear about Jesus as the bread of life who feeds thousands, and how the religious leaders hated him. You can really see the battle between the freedom Jesus brings and the legalism that religion tries to dump on you. We get the woman caught in adultery (where's the guy?), a big fight over a blind man's healing, and Jesus as the Good Shepherd. It's a great week to explore God's word. What's he saying to you? What might you do about it? I can't wait to hear what he's up to with all of us.
Week 1 – Jan 2-6, John 1-5 Devotional
Cindi Wallace
Ah January. I have such a love hate relationship with you. A time I look forward to starting fresh – new goals, new hope, new rhythms and routines. Especially this year – new city, new home, new church, new school, new jobs, new friends… I can't get away from new this year! But January is also a time of stark reality. A time when truth seems to play a much more prominent role than grace. A time to be honest not just about where we want to go, but where we are! If I'm truly going to step into new goals and better rhythms for 2017, I better be honest with myself about things I missed last year. I need to look at areas where I failed, and especially those places where I just totally missed what God was doing in and around me.
As I'm reading through the Gospel of John, I'm continually reminded of the deep love God has for me. John tells us again and again of how Jesus connects with us, loves us, forgives us, heals us, teaches us, leads us. The list goes on and on as John reveals the character of Jesus. Jesus is clearly on our side. He desires to live in us and lavish his love on us. But this love is one that shows up in both grace and truth.

In John 5 we read the story of the man healed in Jerusalem, lying immobile by the Sheep Gate pool, called Bethesda. Scripture tells us that this was a place people came to find healing. The blind, the lame, the paralyzed came to sit in the pool and be healed. This particular man had been unable to walk for 38 years. 38 years! That's a long time. But he still sat there waiting … We don't hear much about his backstory. We don't know why he was unable to walk or how he even got to the healing pool. But we clearly read how Jesus simply tells him to pick up his mat and walk. And, he does! That's the grace part.
But the piece of truth that struck me today was a few verses later. In John
5:14
we read "Later Jesus found him in the temple..". As I've been reflecting on these words, my optimistic-give him the benefit of the doubt view wants to say he was there looking for Jesus to thank him. But the more I've sat with these words, the more challenge I hear. Why would someone who was unable walk for 38 YEARS stay in the same place????!!!???
If I'm honest, that what I've been doing. God has healed me of some incredible fear and doubt. And yet, I often find myself remaining in that place of uncertainty. I've seen a few physical healing, and even experienced a bit myself over the years. But what seems significant to me in this season is the internal emotional and relational healing God has done in my life. I have experienced his grace and love in such a way that I know I have been healed from those dark places. I know God does not want me to live in fear and doubt. I know the truth of who Jesus is gives me freedom. I want to live by the promise of perfect love casts out fear (1 John
4:18
). But, somehow I find myself healed and free … and yet stuck…sitting in the same old place. Doubting myself. Old habits and old lies creep back in and I become crippled with fear, once again. Doubting the healing. Doubting the truth.
I wonder what God might be saying to you today? Is there something Jesus healed you of, and yet you find yourself not living into that truth? Are you sitting near the place of healing, but like me, afraid and stationary? As we press into 2017, let's pick up our mats and walk into the new! New hope. New confidence. New light. New healing. New freedom.